Аріевъ ледъ
Ares Ice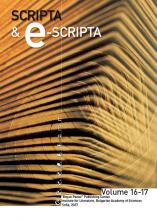 Author(s): Ralf Cleminson
Subject(s): History // Language studies // Literature Studies // Cultural history // Applied Linguistics // Studies of Literature // Middle Ages // South Slavic Languages // Philology // Translation Studies //

Published by:

Institute for Literature BAS

Print ISSN: 1312-238X
Summary/Abstract:

The paper discusses the translation of Ἄρειος πάγος into Slavonic, which until the late seventeenth century is almost invariably Аріевъ ледъ. It is suggested that although this does not correctly render the original meaning of the Greek, translators (and others, including their Greek contemporaries) did not necessarily perceive place names as literally meaningful. Аріевъ ледъ was thus simply the established Slavonic name for the Areopagus, and known as such to Slavonic writers. The principle place where it occurs is in the Acts of the Apostles, where it is used consistently, and there is a varied body of commentary in Slavonic attached to this passage, which is discussed in detail. The use of the toponym in a number of non-Biblical texts is also traced.
---