The Greek Tradition of Hippolytus' Commentarii in Danielem and the Slavonic Translation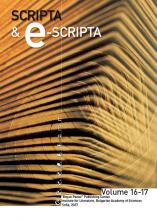 Author(s): Ivan I. Iliev
Subject(s): History // Language studies // Language and Literature Studies // Cultural history // Studies of Literature // Middle Ages // Philology // Translation Studies //

Published by:

Institute for Literature BAS

Print ISSN: 1312-238X
Summary/Abstract:

The article highlights the Greek manuscripts, containing Hippolytus of Rome's Commentarii in Danielem, the history of their research and their content, as well as the relation among them and the Slavonic translation. The author reveals all Greek and Slavonic sources, known today, and demonstrates how the two versions of the text correspond to each other. The main focus is placed on the cod. Meteoron 573, of the tenth century, proven to be the closest and mostly related to the Slavonic translation. This matter was profoundly revealed by comparison of contents, titles and structure of the texts of both versions, which is briefly presented in this paper.
---