Text or Paratext? The Synopsis Apostolorum of Dorotheus of Tyre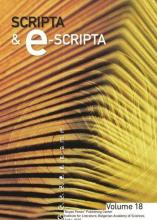 Author(s): Ralf Cleminson
Subject(s): Apostolos // New Testament // Slavonic translations // Parabiblical literature // Language and Literature Studies // Theoretical Linguistics // Applied Linguistics // Studies of Literature // Philology // Translation Studies //

Published by:

Institute for Literature BAS

Print ISSN: 1312-238X
Summary/Abstract:

The article discusses the Synopsis Apostolorum attributed to Dorotheus of Tyre, which purports to be a list of the Seventy Apostles. It gives a brief overview of the history of the text in Greek and Slavonic. In contrast to the Greek tradition, where it may be found in miscellanies of various types and also in manuscripts of the Apostolos which are provided with relatively extensive apparatus, in Slavonic it is found exclusively in Apostolos manuscripts. The redaction of the Synopsis, moreover, corresponds to the redaction of the Apostolos; there are discernible differences between the texts in each of the three Slavonic redactions in which it is represented. This indicates that it was translated as part of the accompanying text each time that the Apostolos itself was translated. This means that the Slavonic version (unlike the Greek) exists exclusively as paratext, but that this paratextual status, being dependent on the version, is not intrinsic to the work but a function of its history. This in turn points to the necessity of taking the paratext into account in any study of the text of the Bible.
---