Translating the Subtleties. The Philosophical Categories in the Symeon Collection (Symeon's Miscellany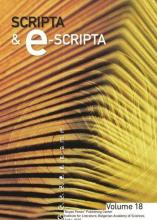 Author(s): Diana Atanassova-Pencheva Dimka Gicheva-Gocheva
Subject(s): Byzantine Greek // Tsar Simeon's florilegia // Terminology // Philosophical and theological language // Language and Literature Studies // Theoretical Linguistics // Applied Linguistics // Studies of Literature // Philology // Translation Studies //

Published by:

Institute for Literature BAS

Print ISSN: 1312-238X
Summary/Abstract:

When we study translations from classical or Byzantine Greek into Old Bulgarian, we usually encounter two aspects of the question how: firstly, the how of the linguistic rendering, the how of the translation techniques used for one term or another. The second aspect is that of evaluating the how: shall we praise or, on the contrary, express regrets in respect of the translator's work. Besides these two inherent aspects of the question how, a third one has arisen in the last three decades in Bulgaria. We have a long tradition of translating Old Greek and Byzantine texts into Old Bulgarian, but with respect to the philosophical and theological terminology used nowadays, are we obliged to follow the patterns of the past, the forms of the language, suggested by this millennium long tradition? With respect to the formation of the Bulgarian philosophical and theological language, the Symeon's Miscellany is an extremely important source because from f. 222 to f. 237 a range of issues is discussed as answers to questions 29 and 30. This section of the writing includes clarification of terms, categories and concepts from the classical Greek and/or the Christian philosophy and demands profound interdisciplinary research.
---