Daily Life and Religion: The Vienna Euchologia Project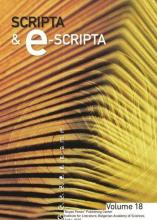 Author(s): Eirini Afentoulidou
Subject(s): Language and Literature Studies // Applied Linguistics // Studies of Literature // Philology // Translation Studies // Byzantine Euchologion // History of the society // Daily life // Linguistics // Tradition of the text //

Published by:

Institute for Literature BAS

Print ISSN: 1312-238X
Summary/Abstract:

The study of the Euchologia (singular: Euchologion), the prayer books to be used by the clergy, has long been neglected by medieval historians. This is beginning to change, as more and more scholars discover the potential of the Euchologia as a source for social history. Indeed, Euchologia contain besides Eucharistic and sacramental liturgies also prayers for various occasions of the daily life of women, men and children from various strata of society and every geographical region of the Byzantine world. Thus, the Euchologia offer a different perspective than most Byzantine written sources, which concentrate on urban, male, often ordained elites. In 2015 a new research project dedicated to the study of Euchologia was initiated at the Division of Byzantine Research of the Austrian Academy of Sciences. The project seeks to study Greek-language Euchologia copied up to the year 1650 and the prayers they contain.
---