Some New Data on the Literary Activity of Samujil Bakacˇycˇ: Preliminary Remarks
Нови данни за литературната дейност на Самуил Бакачич (предварителни бележки)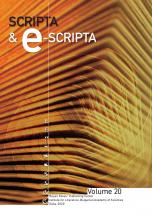 Author(s): Dilyana Radoslavova
Subject(s): Language and Literature Studies // Language studies // Studies of Literature // Philology // Theory of Literature //

Published by:

Institute for Literature BAS

Print ISSN: 1312-238X
Summary/Abstract:

Samujil Bakačyč was an Athonite man-of-letters who worked in the last quarter of the 17th century and was famous for his translations into Church Slavonic, most of which are known from single autographs. Among the works he translated, there were two of the most popular Greek anthologies – Thesauros by Damaskenos Stoudites (Venice, 1557/8) and Hamartolon soteria by Agapios Landos (Venice, 1641). While Bakačyč's version of the latter, and especially of its third part – Miracles of The Theotokos – gained great popularity among the South Slavs, his 1691 translation of the Thesauros, although declared by him in a title page, has been so far known as partial and including a few vitae. The article aims to present two newly identified autographs of Samujil Bakačyč. They reveal some interesting details from the textual history and dissemination of the cycle of The Theotokos' Miracles and shed light on the question about the real scope of his translation of the Thesauros

Нови данни за литературната дейност на Самуил Бакачич
(предварителни бележки)

Диляна Радославова
(Институт за литература при БАН, София, България)

Самуил Бакачич е атонски книжовник, който работи през последната четвърт на XVII в. и е известен с преводите си на църковнославянски език, повечето от които познати от единични автографи. Сред преведените от него произведения са две от най-популярните гръцки антологии – Съкровище от Дамаскин Студит (Венеция, 1557/8) и Спасение на грешните от Агапий Ландос (Венеция, 1641). Докато версията на Бакачич на последното съчинение и особено на третата му част – Чудесата на св. Богородица, придобива голяма популярност сред южните славяни, неговият превод на Съкровище от 1691 г., макар и обявен от него в заглавна страница, досега е известен частично и включващ няколко жития. Статията има за цел да представи два новооткрити автографа на Самуил Бакачич. Те разкриват някои интересни подробности от текстовата история и разпространението на цикъла от Чудесата на св. Богородица и хвърлят светлина върху въпроса за реалния обхват на превода на Съкровище.
---
Page Range:

357-367

No. of Pages:

12

Language:

English

Institute for Literature, Bulgarian Academy of Sciences, Sofia, Bulgaria

Description

Dilyana Radoslavova, currently a Senior Assistant Professor at the Department of Old Bulgarian Literature, Institute of Literature, Bulgarian Academy of Sciences. She has a MA degree in Bulgarian Philology (St Kliment Ohridski University of Sofia, 1995) and a PhD degree in Bulgarian literature (Institute of Literature, BAS, 2010). She specialises in the fields of the history of the Mediaeval Slavonic letters, Cyrillic palaeography and codicology, and creating electronic resources in palaeoslavistics. She is a co-compiler of Cyrillic Books Printed before 1701 in British and Irish Collections: A Union Catalogue. London, 2000 (with R. M. Cleminson, C. G. Thomson, and V. A. Voznesenskij) and an author of 17th-century Bulgarian Letters: Centers, Scribes, Repertoire (Studia Mediaevalia Slavica et Byzantina 6). Sofia, 2020.