A Possible Anti-Jewish Trace in the Figure of the Antichrist in the Early Christian Patristic Literature and its Connection to the Slavonic Studies?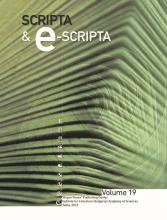 Author(s): Ivan I. Iliev
Subject(s): Language and Literature Studies //

Published by:

Institute for Literature BAS

Print ISSN: 1312-238X
Summary/Abstract:

The article traces back all early patristic pieces of evidence of the nature and appearance of the Antichrist, summarizes out his mentions in the Old Testament and New Testament and gives additional information for the calculation of the number 666. A peculiar Anti-Jewish trace is highlighted, as well as the reasons for its presence in the early Christian literature is discussed. The paper also focuses on De Christo and Antichristo by Hippolytus of Rome and points out its importance for the patristic studies and their connection to the Slavonic manuscript tradition.
---