Reconsidering the Textual Transmission of the Slavonic Quaestiones adAntiochum ducem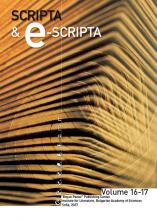 Author(s): Lara Sels
Subject(s): History // Language studies // Language and Literature Studies // Cultural history // Studies of Literature // Middle Ages // Philology // Translation Studies //

Published by:

Institute for Literature BAS

Print ISSN: 1312-238X
Summary/Abstract:

The present contribution addresses questions concerning the textual history of the Slavonic translation of the Quaestiones ad Antiochum ducem (CPG 2257) and challenges some of the positions taken by William Veder in his recent edition (2016) of this eratopocritic collection. A selection of key text witnesses (among which the Izbornik of 1076, the Troitskij sbornik and the Laurentian florilegium of 1348) are examined in order to distinguish the different textual layers and to arrive at a better understanding of the text's transmission history. It is argued that there is no firm proof for the existence of a full corpus of QAD questions in Slavonic prior to the thirteenth century and that the textual tradition of the QAD is marked by progressive expansion and continuous conflation.
---
Page Range:

217-242

No. of Pages:

26

Language:

English

Postdoctoral Collaborator, PhD KU Leuven, Belgium

Description

Lara Sels is a slavist (1996) and a classicist (1998) who obtained her PhD in East European Languages and Cultures at the Ghent University, with an annotated edition of the Slavonic translation of Gregory of Nyssa's On the Making of Man (2004). Between 1998 and 2014 she lectured in Old Church Slavonic at the Slavistics Department of the University of Ghent. Since 2012 she is employed at the Greek Studies Department of the KU Leuven, where she lectures in Byzantine art, and is responsible for the editorial work on the Series Graeca of the Corpus Christianorum. She is the author of several publications on the Slav reception of Byzantine culture.

KEYWORDS: