Название и самоназвание в номинативных комплексах рукописных книг XIV–XIX веков (на материале Отдела рукописей Российской государственной библиотеки)
Title and Self-title in Nominative Complexes of Manuscripts 14th–19th Centuries (Based on the Material of the Manuscript Department of the Russian State Library)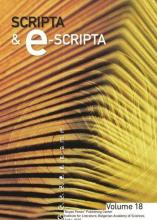 Author(s): Marina Krutova
Subject(s): Language studies // Language and Literature Studies // Theoretical Linguistics // Applied Linguistics // Studies of Literature // Philology // Palaeoslavistic // Titles of manuscripts // Definitions // History of texts // History of books // Putting into practice //

Published by:

Institute for Literature BAS

Print ISSN: 1312-238X
Summary/Abstract:

The article defines the concepts related to the naming of written monuments in the Slavonic-Russian manuscript tradition. The definitions of basic concepts: name, self, complex nominative, nominative unit. Identified the causes, the appearance of names in different parts of the same manuscript books associated with the execution name and the self of different functions: nominative, informative, hermeneutics, didactic, testoobraznaja, aesthetic. A comparison of the concepts of title and self-title on the example of handwritten books stored in the manuscript Department of the Russian state library, the Fund of the Trinity-Sergius Lavra. It is revealed that the self-name is more extensive and informative than the name, but the name, in turn, differs in structural and semantic variability. Variability of names in the composition of nominative complexes is characterized.
---