Comparison of Four Medieval Bulgarian Inscriptions by Letter Frequency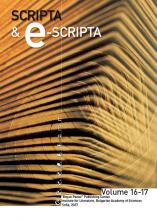 Author(s): Svilena Hristova Jordan Tabov
Subject(s): History // Language studies // Literature Studies // Cultural history // Applied Linguistics // Middle Ages // South Slavic Languages // Philology //

Published by:

Institute for Literature BAS

Print ISSN: 1312-238X
Summary/Abstract:

This article compares the letter frequencies of four old Bulgarian inscriptions: the Samuel inscription of 993, the Samuel inscription of Voden, the Bitola inscription of Ivan Vladislav and the Tărnovo inscription of Ivan Asen II. We establish the proximity of the letter frequencies of these inscriptions and thus obtain an argument in favor of the view that the Voden inscription is a product of the same scribal tradition and orthography, and of the same epoch, to which both Samuel's of 993 and Bitola's inscriptions belong. The impressive 'frequency proximity' of the Voden and Bitola inscriptions is used to offer the hypothesis that the Samuel Dynasty's royal administration has had a consistent tradition of writing and orthography.
---