Byzantines, Bulgarians and Serbs in the Vita of Saint Vladimir in the Gesta Regum Sclavorum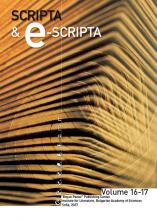 Author(s): Angeliki Papageorgiou
Subject(s): History // Language studies // Language and Literature Studies // Cultural history // Studies of Literature // Middle Ages // Eastern Slavic Languages // Philology // Translation Studies //

Published by:

Institute for Literature BAS

Print ISSN: 1312-238X
Summary/Abstract:

The Vita of St Ivan Vladimir, the first Serbian saint, is contained in the so- called Chronicle of the Priest of Dioclea, also known as Gesta Regum Sclavorum. The aim of this paper is to examine one of the more interesting aspects of the Vita: the image of the Bulgarians, Serbs and Byzantines during the troubled times of the Byzantine-Bulgarian war of 976–1018. The picture that emerges from the Life of St Ivan Vladimir holds many surprises for the modern reader and is contradictory to our own perceptions of the two protagonists of the era, Samuel and Basil II.
---