Двойная рецепция при формировании княжеской службы: служба св. Александру Невскому как модель
A Double Reception in the Formation of a Princely Service: The Service of St Alexander Nevsky as a Model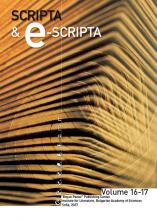 Author(s): Victoria Legkikh
Subject(s): History // Language studies // Language and Literature Studies // Cultural history // Studies of Literature // Middle Ages // Eastern Slavic Languages // Philology // Translation Studies //

Published by:

Institute for Literature BAS

Print ISSN: 1312-238X
Summary/Abstract:

The Service of St Alexander Nevsky was written by Monk Michael of the Roždestvenskij monastyr' (Nativity monastery) in Vladimir. He was one of the writers, belonging with the circle of Metropolitan Macarius, who composed princely services (and sometimes vitas) for new Russian saints. Most of the services are compilations of verses and hymns and more or less exact borrowings (and sometimes compositions according to models). In the Service of St Alexander Nevsky, the most refined of Monk Michael's works, the hymnographer utilized various models to combine them into one canon, thus giving it the colour of an original work. It is important to add that Monk Michael used Slavic translations instead of original Greek texts, a fact proved by textological comparison. The service, dedicated to a saint prince, canonized in the sixteenth century, was the only one included in the Menaion. Together with the especial respect and veneration of the new saint, it was one of the reasons why his service became a model of other princely services. It is worth noting that instead of hymns, originally borrowed for the new service, exactly the adapted hymns to St Alexander were taken as standard for princely services, thus allowing a double reception of the translated hymns. For the purpose of the investigation the author analyzes the services of St Roman of Ugleč, St Daniel of Moscow, the Service of Finding of his Relics including, as well as the service to St Dowmant of Pskov.
---