Неизвестный пергаментный отрывок кириллического Евангелия апракос полного из библиотеки Духовной семинарии Госианум в Ольштыне
An Unknown Parchment Fragment of the Cyrillic Gospel (Full Lectionary) from the Seminary's Library in Olsztyn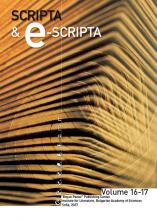 Author(s): Jerzy Ostapczuk
Subject(s): History // Language studies // Language and Literature Studies // Cultural history // Studies of Literature // Middle Ages // Philology // Translation Studies //

Published by:

Institute for Literature BAS

Print ISSN: 1312-238X
Summary/Abstract:

The author introduces a new (previously unknown) parchment fragment (one leaf) of the Full Gospel lectionary from the Library of the Hosianum Seminary of the Archdiocese of Warmia in Olsztyn (Poland). The article presents a concise description and a general characteristic (with textological analysis) of the fragment along with its publication (with three photos). Cyrillic fragment of the Gospel manuscript, which was used together with Latin one to bind several early printed Latin books, is dated to the end of fourteenth or beginning of fifteenth century, but not later than the year 1420. The article presents also a short history of the Library of the Hosianum Seminary as far as it concerns the history of the Cyrillic Gospel fragment.
---