Multiple Translations and Their Context. Praxis de stratilatis in the Medieval South Slavic Tradition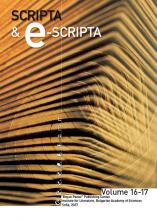 Author(s): Diana Atanassova-Pencheva
Subject(s): History // Language studies // Language and Literature Studies // Cultural history // Studies of Literature // Middle Ages // Philology // Translation Studies //

Published by:

Institute for Literature BAS

Print ISSN: 1312-238X
Summary/Abstract:

My paper focuses on the earliest account of St Nicholas of Myra (Praxis de stratilatis) and its adaption in the South Slavic literary tradition. Praxis de stratilatis dates back to the fourth century and it was the only narrative of the saint for more than three centuries. Even after the eight century when the local cult grew and other narratives about the saint appeared Praxis de statilatis remained one of the most authoritative texts in the literature and the art. The text was translated not only once but twice at the dawn of Old Bulgarian literature, probably as early as the tenth century. The appearance of more than one translation is considered as a witness of the specificity of the literature translated from Greek in the Old Bulgarian tradition, on the one hand, and of the needs and attitude of the readership, on the other. Main hypothesis of my paper is that different kinds of manuscripts provoked the double translations of the text. These are, on the one hand, the Panegyricomartyrologia (known as Minejno­Triodni panegyritsi in the Slavic tradition), which are calendar miscellanies consisting of narratives and eulogies for both cycles of feasts – the movable and the immovable, and, on the other hand, the Menologia (known as Čet'i­Minei), consisting of texts only for the immovable feasts. The textual and contextual analysis of the preserved witnesses of both translations of Praxis de stratilatis shows the cultural and literary needs of the readership which turned out to be important for copying and disseminating the translated text.
---