A Byzantine Epigram in the Pictorial Cycle of Akathistos Hymn for the Virgin from the Narthex of Kremikovtsi Monastery St George (1493)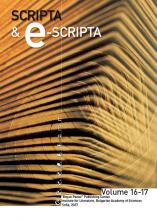 Author(s): Tsvetan Vasilev
Subject(s): History // Language studies // Language and Literature Studies // Cultural history // Studies of Literature // Middle Ages // Philology // Translation Studies //

Published by:

Institute for Literature BAS

Print ISSN: 1312-238X
Summary/Abstract:

The research paper presents an unpublished inscription in Greek language from the narthex of the Kremikovtsi Monastery St George near Sofia – an epigram of the famous Byzantine poet Theodoros Prodromos, who lived at the court of the Komnenian Dynasty in the twelfth century. Being part of the scene Flight into Egypt and – more precisely, – being written in the scroll of a female figure – a personification of the city, no parallel of this inscription has been attested so far in post-Byzantine art. The only other scroll like this has been discovered in the church of the Seslavtsi Monastery St Nicholas near Sofia, but the text there is probably just a decorative detail. A complete study of the preserved part of the damaged inscription is conducted, together with a discussion about its linguistic and literary specifics in the context of the high Byzantine poetry and the Biblical exegesis. The aim is to outline and to describe the raison d'être of this religious epigram (ἱερὸν ἐπίγραμμα) as an expressive instrument for direct communication with the audience through its main stylistic feature – the dialogue between the Saviour and the layman, between the divine and the human nature of Christ. The poetical form chosen by Theodoros Prodromos immediately draws the viewers' attention and it compels them to reflect upon the scene. Theodoros Prodromos' epigram in the Kremikovtsi Monastery offers an exceptional and significant proof that the connection of Balkan art to the achievements of the Christian culture of the former Byzantine empire was still alive in the fifteenth century.
---