Paul the Not-So-Simple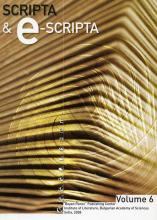 Author(s): David Birnbaum
Subject(s): Language and Literature Studies // Codex Suprasliensis // Electonic corpus // Linguistic annotation // XML // HTML //

Published by:

Institute for Literature BAS

Print ISSN: 1312-238X
Summary/Abstract:

The present report describes the construction of a technologically innovative electronic edition of the Old Church Slavonic "Life of St. Paul the Simple" from the Codex Suprasliensis. From a philological perspective, the on-line edition of the Life of St. Paul the Simple described here has attempted to address the pedagogical and research needs of Slavic medievalists by providing a textual edition that presents the manuscript material in a way that is both richer and more easily accessible than any other edition, paper or electronic. From a technological perspective, it has also attempted to explore some of the ways in which modern electronic text technology can be used to produce research and teaching tools that are superior to those available without such technology.
---