Electronic Student Editions of Medieval Slavic Texts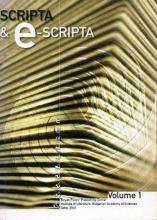 Author(s): Andrej Boyadzhiev
Subject(s): Language studies //

Published by:

Institute for Literature BAS

Print ISSN: 1312-238X
Summary/Abstract:

The report examines the possibilities of electronic publication of mediaeval Slavic texts of various types, intended for teaching at the university. A distinction is made between the critical edition and editions designed for the practical gradual acquiring of linguistic and literary facts. Such publications should fill the gap that exists concerning the mediaeval Slavic texts in electronic form and provide an opportunity to visualize samples of manuscripts. This will increase the opportunity to learn about the essence of Slavic heritage.
---
Page Range:

75-88

No. of Pages:

14

Language:

English

Prof., PhD, Faculty of Slavic Philology, University of Sofia

Description

Dr. Andrej Bojadžiev is Professor in the Faculty of Slavic Studies at Sofia University "St. Kliment Ohridski". His main fields of interests are Slavic historical linguistics, Cyrillic and Glagolitic paleography, markup technologies, digital humanities, and electronic publishing.

KEYWORDS: