Атрибутивные признаки рукописей коллекции И. П. Лаптева
Ръкописната колекция И. П. Лаптев: атрибутивни признаци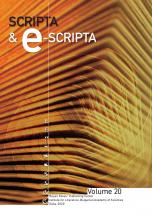 Author(s): Жанна Л. Левшина
Subject(s): Language and Literature Studies // Language studies // Studies of Literature // Philology // Theory of Literature //

Published by:

Institute for Literature BAS

Print ISSN: 1312-238X
Summary/Abstract:

The paper looks at the attributive features of the manuscripts, which belonged to Ivan Petrovich Laptev, a merchant, a bibliophile and one of the first significant Russian manuscript book collectors, that the author was able to identify. His collection was sold off at an auction in 1840 and is in need of reconstruction. Various markers that were preserved on Laptev's manuscripts would help to do this. These markers include ink-made numbers (on the inner side of the top cover of the binding and inside the books), blind stamps from printing with the owner's initials and ancient coins, various marks left by Laptev himself and his family members, as well as silk bookmarks glued to page margins.


Ръкописната колекция И. П. Лаптев: атрибутивни признаци
Жанна Левшина
(Руска национална библиотека, Санкт Петербург, Русия)

В статията се идентифицират и разглеждат атрибутивните характеристики на славянските ръкописи, принадлежали на Иван Петрович Лаптев, търговец, библиофил и един от първите значими руски колекционери на ръкописни книги. Колекцията му е продадена на търг през 1840 г. и се нуждае от реконструкция. Различни маркери, запазени върху ръкописите на Лаптев, помагат да бъде разпозната колекцията като цяло. Тези маркери включват номера с мастило (от вътрешната страна на горната корица на подвързията и отвътре на книгите), слепи печати с инициалите на собственика и с изображения на древни монети, бележки и маркиращи знаци, оставени от самия И. П. Лаптев и от членовете на неговото семейство, като копринени разделители, залепени в полетата на страниците.
---