The Prayer-Book of Niketa (No. 646 NBKM): A Case Study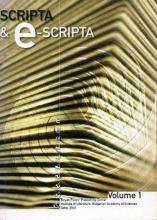 Author(s): Diana Atanassova-Pencheva
Subject(s): Literary Texts // Amulet // Prayerbook // Spells // Magical practicies //

Published by:

Institute for Literature BAS

Print ISSN: 1312-238X
Summary/Abstract:

The article presents a study of a manuscript No 646 from the collection of the National Library "SS Cyril and Methodius" in Sofia, known as the collection of Niketa. In terms of content, the collection is similar to the scrolls with amulets. Contains both canonical and non-canonical prayers, spell texts, talisman seals, etc. The owner has written his name everywhere, as the owner of the manuscript and the user of its apotropaic functions.
---