PERSONALIA
Klimentina Ivanova at 80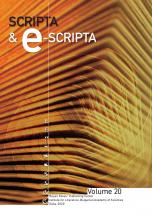 Author(s): Diana Atanassova-Pencheva
Subject(s): Personalia // Anniversary //

Published by:

Institute for Literature BAS

Print ISSN: 1312-238X
Summary/Abstract:

On February 13 this year, one of the most brilliant minds in Bulgarian mediaeval literary studies, Prof. Dr. Klimentina Ivanova, turned 80. Her life has been dedicated to research into mediaeval Slavonic manuscripts, which she herselfsays are like a time machine that allows a return to times quite different from the present and a sharing of the experience of the people who created the books. Klimentina Ivanova's passion and love for manuscripts is quite tangible both in her engaging texts accessible even to young readers not interested in mediaeval studies, such as In the Beginning Was the Book, 1 and in academic and expert editions like the description of manuscripts from the collection of Mikhail Pogodin2 or the volume of the works of Clement of Ohrid.3 Her work as a researcher began in the Institute of Literature at the Bulgarian Academy of Sciences where, even as a doctoral student, she did not only study medieval Slavonic manuscripts, but was also involved in describing those of them that had not yet been studied – a difficult task requiring competence in different fields. That was when she met with the noted Russian scholar Dmitry Sergeyevich Likhachov, with whom she discussed her ideas about hesychasm and at whose invitation she went to Russia, where she specialized at the Old Russian Literature Sector at the Institute of Russian Literature in St Petersburg (1968–1969). Although short, the period she spent in Russia was full of new discoveries while she described the manuscripts from the Pogodin collection, the pages of which proved to preserve works by Bulgarian writers such as Clement of Ohrid and Constantine of Preslav.
---