Stories from the Conversion of the Bulgarians and the Russians in the Annals of Sarandapor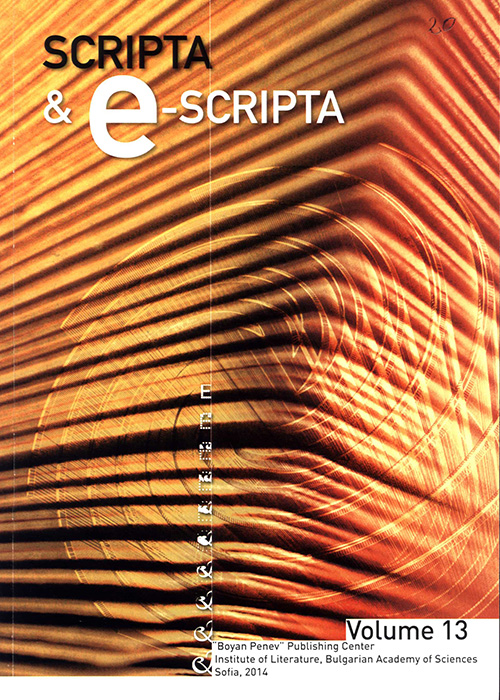 Author(s): Denitsa Petrova
Subject(s): Language and Literature Studies //

Published by:

Institute for Literature BAS

Print ISSN: 1312-238X
Summary/Abstract:

In the National Museum in Sarajevo, Bosnia and Herzegovina, a Liturgikon (Book of Divine Services) is preserved under No. E 543. It was written in the monastery of St. Joachim of Osogovo (Sarandapor) near Kriva Palanka, Republic of Macedonia. On ff. 319r-325v a chronicle was written that is known as Sarandaporski letopis (Annals of Sarandapor). These annals tell the world history from the creation of the world to 1512. The events are presented in a concise manner, with the exception of two short stories of the conversion of the Bulgarians and Russians. This is the only conscious change of the text in the first part of the chronicle. Links with Paralipomen of John Zonaras are identified in this paper. Comparisons with the Useful Tale about the Latins are made. The conclusion of the author is that as juxtaposed with other sources on the conversions of the Bulgarians and Russians, the stories in the Annals of Sarandapor contain new information.
---
Page Range:

223-235

No. of Pages:

13

Language:

English

Musieum of History, Orjahovo

Description

Denitsa Petrova has a master's degree in history and a doctorate in ancient Bulgarian literature. She is an Assistant Professor at the Institute for Historical Research at the Bulgarian Academy of Sciences. Her interests are in the field of historical works in medieval Balkan literature and the study of Slavic sources on Bulgarian history.

KEYWORDS:

9 views