Towards the Study of the Psalter NBKM 13 from the Manuscript Collection of the National Library in Sofia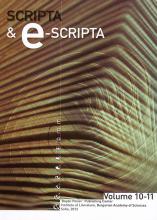 Author(s): Tsveta Evlogieva-Katsarova
Subject(s): Literary Texts // Illumination of Balkan manuscripts // Kratovo school of 16th c. // Priest Lazar from Kratovo //

Published by:

Institute for Literature BAS

Print ISSN: 1312-238X
Summary/Abstract:

The illumination of numerous Balkan manuscripts of the sixteenth century has not been carefully described or studied. Among them is the Psalter NBKM 13, the data about which is re-considered in this paper and some previously unnoticed facts are brought forward. After the detailed analysis of the ornaments, put in the context of the illuminated manuscripts of the well-known copyist priest Ioan (John) of Kratovo, the author offers the hypothesis that the original part of the psalter was written and embellished by another scribe from Kratovo – priest Lazar. His manuscripts known so far include a Miscellany of 1564 (CIAI 1521), comprising the only preserved copy of the Vita of St Nicholas the New of Sofia, compiled by Matthew the Grammarian, a December Menaion of 1571 (GIM Khlud. 148), and a Prologue for June-December of 1572 (HAZU III c 14). This way not only the importance of priest Lazar in the literary life of the epoch was confirmed, but a new witness to the prestigious character of Kratovo Literary School has been presented.
---