The Miracles of the Great Martyr Menas in the Medieval Slavic Pre-Metaphrastic Menaia-Cheti (critical edition of the text, based on MS 1039 from the N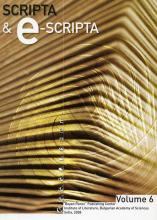 Author(s): Diana Atanassova-Pencheva
Subject(s): Literary Texts // Archetype of Preslav Menaia-Cheti // Tradition of miracles // Popular literature //

Published by:

Institute for Literature BAS

Print ISSN: 1312-238X
Summary/Abstract:

This publication aims to introduce an interesting hagiographic work in Slavic translation – cycle miracles of Martyr Menas, allegedly written by Timothey from Alexandria. Critical edition is based on the copy in the MS 1039 from the collection in NLCM (placed under the date 11 November). The text of the miracles is collated with all available for the author copies of pre-metaphrastic menaia-cheti: compositions in which texts of so called Old redaction are included: No 94 of Dechani monastery, III c 24 Archive of Croatian Academy, No 441 of Hilandar monastery, No 59 of National Library of Serbia in Belgrade. They contain only six out of thirteen miracles. The order of miracles in No 1039 NLCM follows source materials described in BHG (Halkin 1957: 112–114). It can be assumed that the initial composition in the Slavic pre-metaphrastic menaia-?eti was included the whole cycle, which was abridged in later tradition. Enclosed is the edition of the text.
---