The Murals of the St. Demetrios Church in Boboshtica: Local Traditions and Constantinople Influences in the Ecclesiastical Art of the Prespa-Korcha Re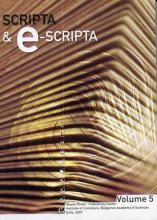 Author(s): Ralitsa Rousseva
Subject(s): Fine Arts // Performing Arts // Kostur-Ochrida region // Stylistic analyisis of iconography // St. Demetrios Church in Boboshtica // Eastern Orthodox murals in Albania //

Published by:

Institute for Literature BAS

Print ISSN: 1312-238X
Summary/Abstract:

The St. Demetrios is a one-nave, one-apse church, which has been re-covered with a gable roof. The murals date from different periods. The first layer, which this study dates to around the last quarter of the 14th century, includes murals on the eastern wall of the naos (the Holy Virgin on the throne, Melismos, St. Cyril of Alexandria, Archdeacon Stephan, the Annunciation, the Ascension), on the western wall of the naos (the Dormition of the Holy Virgin, the Judas's Betrayal or the Mocking of Christ, Christ before Pilate, the Helkomenos, St. Constantine and St. Helena, St. Cosmas and St. Damian), on the church facade (the Donor's composition, the Baptism of Christ ) and in the entrance - St. Paraskevi and St. Barbara. The other murals in the church date from the 17th-18th centuries. On the western wall of the naos above the entrance there is a one-line inscription, paraphrase the Gospel of Matthew [22:39-40]. The lunette above the entrance of the church represents the Holy Virgin and Child, defined by the rare epithet "The Dwelling-place of the Uncontainable [God]". This is the third such representation in the byzantine art which I know of. The other two are in the Church of the Monastery of St. Saviour in Chora, in Constantinople. This paper has repeatedly drawn stylistic and iconographic parallels with the church of Christ Zoodotes in Embore not only because this is the nearest church in geographical terms, but also because it was probably commissioned by the same donor. Still, I will refrain from advancing the thesis that the two churches were decorated by the same team of painters. The stylistic features relate the murals in this church to the range of monuments in the Kastoria region from the second half of the 14th century. It can be assumed that the painters which painted St. Demetrios church in Boboshtica have also worked in the rock church of the Annunciation near Globochica.
---
Page Range:

183-200

No. of Pages:

18

Language:

English

Institute of Art Studies, Bulgarian Academy of Sciences

Description

Rousseva, Ralitsa, Assoc. Prof., PhD Institute of Art Studies, Bulgarian Academy of Sciences; Museum for Christian Art at the Crypt of St Alexander Nevski Cathedral, Sofia, Bulgaria

Ralitsa Svetlinova Rousseva is an Associate Professor at the Department of Old and Mediaeval Art in the Institute of Art Studies (Bulgarian Academy of Sciences) and Head of Department "Museum of Christian Art, Crypt of St Alexander Nevsky Cathedral" (National Gallery). She has over 50 publications on the problematics of Byzantine and Post-Byzantine art. Some of her main topics are the Bulgarian art from 13th–14th century, monuments of Christian art in Albania, iconography of the Slavic saints. In her latest book Golden Book. Icons from Bulgaria (9th–19th century) are analyzed 100 icons, which traces the development of the icon painting in Bulgaria. She is a curator of the exposition in the Museum of Christian Art and the exhibitions: Icônes et manuscrits bulgares, Musées royaux d'Art et d'Histoire, Bruxelles 2002; Bulgarian Christian Art, State Historical Museum, Moscow 2003; curator of the Bulgarian part of the exhibition Byzantium. Faith and Power (1261–1557) at the Metropolitan Museum of Art, New York 2004; The Bulgarian Christian Art 13th–15th Centuries and the Palaeologan Renaissance. National Museum of History, Sofia 2006; Icons from Bulgaria 13th – 19th Centuries. State Historical Museum, Moscow 2009; The Rejoicing of Prayer. Unknown Icons from the Fund of Crypt. Museum of Christian Art, Crypt of St Alexander Nevsky Cathedral", Sofia 2014 and many others.

KEYWORDS: