The Cycle of Texts Dedicated to the Virgin Mary in an Unstudied Manuscript from the 14th Century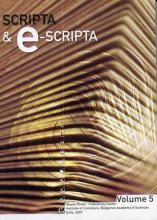 Author(s): Marina Yordanova
Subject(s): Literary Texts // Apocrypha // Parchment codex N 219 from the Patriarchate library in Belgrade // Narratives dedicated to Virgin Mary // Slavonic miscellanies //

Published by:

Institute for Literature BAS

Print ISSN: 1312-238X
Summary/Abstract:

The patriarchal library in Belgrade keeps a parchment collection under the number 219 (PC 219 below), II + 192 leaves (384 pages), format 4?, written in 1381. It has never been studied or compared to other similar manuscripts until now. The miscellany comes from Sremski Karlovci. The preliminary observation of the cycle of works dedicated to the Virgin in the miscellany PL 219 demonstrates once again that manuscripts containing undetermined source material can present the researcher with many surprises. Putting the works into cycles (without observing the calendar order) and their placement at the opening of the miscellany could be interpreted as intentional. Most probably the miscellany has been compiled for a church or monasteries dedicated to the Mother of God or rather to her Dormition because the texts provided for this holiday are three. This accumulation of the texts is an exception in the whole manuscript tradition with which I am acquainted. Detailed comparative examination of the texts and their translation, as well as of the history of the codex itself is yet to be carried out.
---