The Segmentation of the Erotapokriseis of Pseudo-Kaisarios as a Source for the History of Its Slavonic Translation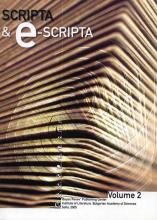 Author(s): Yavor Miltenov
Subject(s): Language studies // Literature Studies // Erotapokriseis of Pseudo-Kaisarios // Slavonic translation of the Erotapokriseis // Organization and segmentation of the text //

Published by:

Institute for Literature BAS

Print ISSN: 1312-238X
Summary/Abstract:

The Slavonic translation of the Erotapokriseis of Pseudo-Kaisarios was made in the first quarter of the X century, but was kept only in Russian manuscripts from XV-XVII century, where it is distributed under a new title and with considerable absences of texts in the beginning and end of the work. The article is dedicated to the composition of the questions and answers in the Erotapokriseis. Examined is the possibility to obtain data about the translation itself, as well as its Greek prototype, from the organization and segmentation of the Slavonic text. The data studied in the article show that the translation of the Erotapokriseis was made completely, without eliminating parts of the text of adding others. The exposed arguments lead to the conclusion that the reason for the absences of text in the Russian copies is a physical fault in their Bulgarian protograph.
---