Computer-Assisted Analysis and Study of the Structure of Mixed Content Miscellanies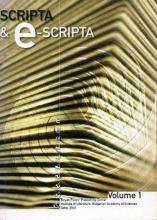 Author(s): David Birnbaum
Subject(s): Language and Literature Studies //

Published by:

Institute for Literature BAS

Print ISSN: 1312-238X
Summary/Abstract:

Monuments of Slavic written heritage such as a mixed content miscellanies or a question-and-answer composition, consist of an indefinite number of textual parts (articles) arranged in an indefinite order. It is assumed that to compose a new manuscript of this type, the scribe first copied several articles from one manuscript (the first antigraph), then from another, etc. This process is reflected textually by the fact that two or more manuscripts of the same type contain the same compound articles in the same order. This study proposes a computer system that meets the philological needs of comparing a large number of manuscripts in order to establish a typology of composition and group it according to appropriate types. The system uses only open-source standards W3C (XML, XSLT, SVG) and TEI.
---