The Holy Church Fathers' Fountain of Wisdom in the Sixteenth-Century Church at Mrzen Oreovec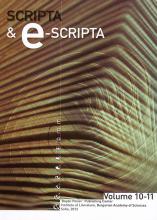 Author(s): Viktorija Popovska-Korobar
Subject(s): Literary Texts // Sixteenth-Century Church at Mrzen Oreovec // Lesnovo and Poganovo monasteries // Image of the Fountains of Wisdom //

Published by:

Institute for Literature BAS

Print ISSN: 1312-238X
Summary/Abstract:

At the cemetery of the village of Mrzen Oreovec near Kavadarci (Republic of Macedonia), a single-nave church of St Nicholas was erected and painted in 1584. The author's attention is confined to two of the fresco compositions which are generally known as the Fountains of Wisdom of the Holy Fathers St John Chrysostomos and St Gregory the Theologian. Such scenes are rare in the mural paintings, and until now have been known only as part of the thematic programmes of monastic churches. Both compositions in Mrzen Oreovec have corresponding allegorical meaning and function in a soteriological and eschatological context. The iconographic similarities and analogous scenes in Lesnovo and Poganovo monasteries indicate the same painting tradition related to Kastorian ateliers from the mid-fourteenth to the last quarter of the fifteenth century. The person who commissioned the programme might had chosen this topic from the two older monuments or from another one not preserved to this day but his knowledge in theological subjects is apparent.
---