The Supernatural Agents in Medieval and Early Modern Bulgarian Charms: Magical Functions and Quotidian Contexts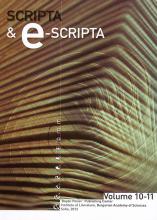 Author(s): Svetlana Tsonkova
Subject(s): Literary Texts // Bulgarian charms // Verbal spells // Late medieval literature //

Published by:

Institute for Literature BAS

Print ISSN: 1312-238X
Summary/Abstract:

This article explores the quotidian functions and roles of the supernatural powers, attested by Bulgarian charms from the middle Ages and Early Modern times. Using the textual source material as a starting point, the focus is put on the supernatural presence as a cultural phenomenon in the context of quotidian sphere. The supernatural power of evil and good act within the frames of a crisis and its seizure is analyzed. They are integral part of the system of charms and other powerful words, the purpose of which is to counteract the serious challenges in everyday life. Thus the supernatural powers create dynamic and constant interaction between the human and supernatural world. These interactions could be seen also as complicated relations of the powers which sustain the verbal magic as effective network for crisis management.
---