The Slavonic Vita of Stephen I the Pope of Rome: the Issue of Its Latin or Greek Origin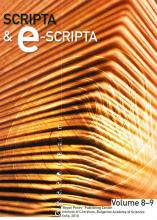 Author(s): Mariya Yovcheva Lora Taseva
Subject(s): Literary Texts // Vita of Pope Stephen I // Slavonic translations from Latin // Linguistic analysis // Greek original //

Published by:

Institute for Literature BAS

Print ISSN: 1312-238X
Summary/Abstract:

The objective of the study is to clarify the issue the origin of the source, used for the Slavonic translation of the Vita of Stephen I the Pope of Rome (VS). The five known Slavonic copies – GIM, Undolksij 232 (15th c.), GIM, Synodal collecton No. 997 (1552–1553) and No.183 (1554), RGB, Holy Trinity Lavra of Sergiev Posad No. 680 (16th c.), RNB, No. 1376 of the Hagia Sofia Cathedral in Novgorod (16th c.), both Greek versions (issued by Latyšev 1916) and the Latin text (according to Acta Sanctorum) have been compared. The study showed that most arguments, supporting the Latin origin of the Slavonic translation, as indicated by A. Sobolevsky and V. Mareš, are disputable or even invalid. A part of the so-called traces of a Latin source are errors, occurring in Slavonic environment, which can be found only in Und. 232, or Und. 232 and single other copies, while the other manuscripts keep the correct readings. A number of errors, due to paronymy or omonymy of the Latin words, have parallels in the Greek versions, and therefore they may appear in the Slavonic VS from a Byzantine origin. Other arguments, supporting the hypothesis of a Greek origin of the Slavonic translation of the VS, have also been provided: semantic equivalence of the Slavonic and Greek words, when the respective Latin word shows a partial or complete difference; presence of rare Greek loan-words; Graecisized phonetic form of a number of Latin borrowings.
---
Page Range:

365-385

No. of Pages:

21

Language:

English

Prof., PhD Sofia St Kliment Okhridski University and Plovdiv University, Bulgaria

Description

Мария Йовчева – профессор Богословского факультета Софийского университета им Св. Климента Охридского и Филологического факультета Пловдивского университета им. Паисия Хилендарского. Специалист в области средневековой славянской литературы, византийской и славянской гимнографии, агиологии, истории литургических книг (в частности, Минеи и Октоиха), истории славянской Библии, исторической лексикологии. Автор нескольких монографий и изданий средневековых славянских памятников.

Prof., PhD Institute of Balkan Studies and Center of Thracology, Bulgarian Academy of Sciences, Sofia, Bulgaria

Description

Лора Тасева закончила болгарскую филологию в Софийском университете им. Св. Климента Охридского. Там же на кафедре кириломефодиевистики защитила диссертацию на соискание ученой степени "доктор" (1997). Специализировала в Вене (1995–1996), Мюнстере (1998, 2000–2001), Бонне (2003) и Берлине (2008, 2016). Работала в Кирилло-Мефодиевском научном центре БАН (1993–2009) и в Институте славянских языков и литератур Бернского университета в рамках проекта Швейцарского научного фонда (2010–2013). С 2012 г. она профессор в Институте балканистики с Центром фракологии при Болгарской академии наук. Ее основные научные интерессы направлены на рецепцию византийской литературы у балканских славян и в частности на искусство перевода, на издания средневековых рукописей, на греческо-славянскую лексикографию и историческую ономастику. Самостоятельно или в соавторстве она опубликовала две монографии, три издания средневековых памятников и более чем 120 студий, статей и рецензий. Редактор нескольких тематических сборников.

KEYWORDS: