Once Again on the Cult and Hagiographic Texts about St. Paraskeve/Petka of Rome in the South-Slavic Middle Ages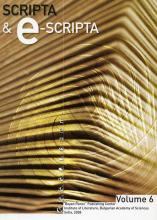 Author(s): Maya Petrova
Subject(s): Literary Texts // Cult of St. Paraskeve-Petka // Functions of hagiographic text // Late medieval literature //

Published by:

Institute for Literature BAS

Print ISSN: 1312-238X
Summary/Abstract:

The veneration of St Paraskeve/ Petka of Rome became widespread rather early among the Orthodox Slavs on the Balkans, as is clear by a well-known historical record from 1234 (which states that at that time the Life and the Office of this Roman martyr were accessible everywhere in medieval Bulgaria) and by the numerous manuscript copies of the texts dedicated to her. Her Live is preserved in several different versions witnessing both to independent translations from Greek and to attempts to create a free narrative based upon the already existing Slavic texts. Furthermore, the literary tradition of St. Paraskeve of Rome, in addition to being interesting in itself, has proved to be important for the Balkan cultural and religious history in at least two other ways: it deeply influences the cult of St Parakeve/Petka of Epibatai (the most popular Balkan woman-saint) and it was fundamental for building-up the popular cult of St Paraskeve/Petka on the Balkans. The article provides an edition of a little-known passion of this Roman martyr made according to the three preserved South-Slavic transcripts of the text (Savina Monastery, MS 29, 1380; Moscow, State Historical Museum, Xludov collection, MS 241, middle of the 15th century; and Plovdiv, National library, MS 101, end of the 16th-beginning of the 17th century).
---